When the teaser for Marvel vs. Capcom Infinite came on at PlayStation Experience, it instantly rekindled my interest in the series. Memories of me playing with a motley crew of all of my favourite heroes came flowing back. I vividly remembered the one time I pulled off the slickest combo and just slammed my friend with the unlikely duo of Wolverine and Phoenix Wright. He turned off the console, unplugged his remote, and left my house. It was a victory that made me indescribably happy. Destroying my pal with everyone's favourite attorney was already cool, but the fact that I had the feral mutant with claws for hands as backup really made it a memorable victory. That's what Marvel vs. Capcom does best, it makes you feel like you're in a weird fever dream of a game where all of your favourite characters from different universes can fight each other, and that's super cool. The re-release of Ultimate Marvel vs Capcom holds true to that feeling and plays as good as ever on the PlayStation 4.
This year there was a drought for fighting games. We did get a new Street Fighter and King of Fighters, but it looks like both of the series are going in a more serious direction. Straying farther away from their arcade roots. It's not a bad path to go, they're still great games, but they left me craving something fun, goofy, and light-hearted. I'm actually really glad Ultimate Marvel vs. Capcom 3 came out again on PS4. Clicking play and loading the game up feels just the same as booting it up on an old arcade cabinet. The classic MvC background music is playing in the background combined with that announcers sweet booming voice sets the mood for an arcade-y fun time.
The main things that set this version of the game apart form its very similar counterparts are the slight visual updates. It now runs at 1080p resolution and 60 fps and that small change is enough to make everything feel fresher. It even makes the main menu shine a bit brighter, and it adds to this game's glow. Man, does this game glow.
Ultimate Marvel vs. Capcom 3 is iconic, in-depth and self-referential. It takes a bunch of franchises from two much-loved universes and throws them into battle with each other. Remember when you were a kid and you had action figures that weren't from the same comic, but against all odds you somehow made it work? UMvC3 is that feeling in game. For the most part it perfectly captures that feeling. It's also full of deep references from both Marvel and Capcom's universes. The dialogue is just hilarious and most alternate costumes have a backstory to them.
I spent a lot of time fooling around with the game and it's great, but the series is a phenomenon I can't entirely wrap my head around. I mean just the way Capcom deals with it is just bizarre. The last *new* game came out in 2011, but somehow the timeless gameplay and devoted community preserved the hype around Marvel vs. Capcom. I think it's amazing how many people have learned the game and devoted hours upon hours deconstructing every frame of every character, when there isn't even a tutorial mode.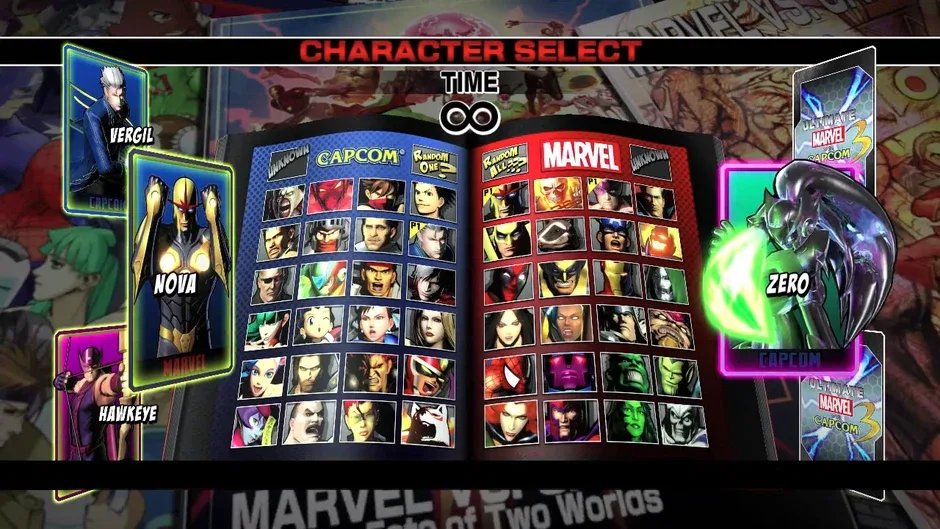 The lack of guidance is my only issue with Ultimate Marvel vs. Capcom 3, and it's kind of a big one. Not having a mode to teach new players the ins-and-outs of the game is detrimental to a fighting game's experience. The game has been released and re-released and there isn't a plausible reason why they wouldn't include a solid tutorial mode. The closest thing they have is only for teaching combos, the 3v3 combat isn't explained once. Not having a mode to teach new players is both detrimental and alienating. It's also inexcusable considering this is practically the fourth time this game has been released.
Overall though Ultimate Marvel vs. Capcom is a solid fighting game that brings a much-needed arcade fighter to the PS4. Although this game is a re-release of re-release, it sitll has a place on the PlayStation 4. There could be a couple more features added to add to the experience and make it more accessible to newcomers, but hopefully it will hold us all off until Marvel Infinite's 2017 release.